"U.S.S. Erie Torpedoed by German U-Boat Just Off Willemstad Harbor."
Opaque watercolor by C.W. van der Ven (Naval Museum, The Hague)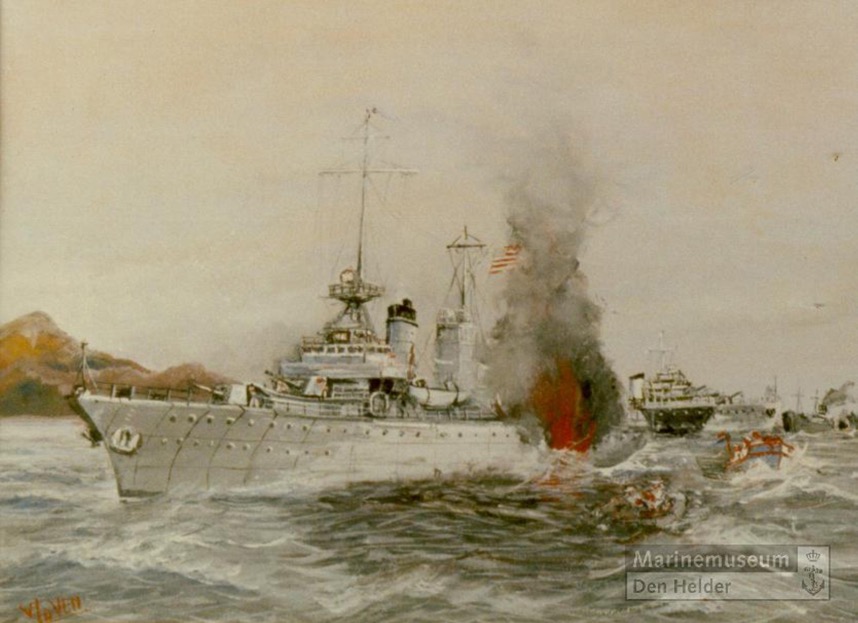 Welcome aboard the U.S.S. ERIE website.

This website seeks to record and preserve the history of this unique ERIE-Class gunboat.

Construction of the ERIE began in 1934, and the ship was commissioned on July 1, 1936. After her Shakedown Cruise to Western Europe in late 1936, the ERIE spent most of her pre-war years "showing the flag" in Central and South American ports.

When World War II broke out, the ERIE was initially tasked with patrolling trade routes and otherwise defending coastal areas within the Panama Sea Frontier, on the Pacific side of the Panama Canal. In June 1942, she was ordered to the Atlantic side of the Canal and took on escort and search-and-rescue duties there. In late September 1942, the ERIE departed from Panama escorting a convoy to Guantanamo Bay, where she reported for further convoy escort duties, as part of the U.S. Navy task force assigned to the Caribbean Sea Frontier.

While serving as the lead escort for convoy TAG-20, she was torpedoed on November 12, 1942 by the U-163, a few miles off the coast of Curacao, Netherlands West Indies. It was there (within the harbor at Willemstad, Curacao) that the ERIE sank on December 5, 1942, while preparations were being made to transport the vessel to a U.S. Navy repair facility. And, it was there that her hulk was salvaged and (on December 9, 1952) was towed to her last resting place, in 300 fathoms of water, just a few miles off the coast of Curacao.

Many men proudly served aboard the ERIE from her commissioning through the day that she sank in Willemstad's inner harbor. This website is dedicated to all of them, but especially Donald Val Leetch, who served aboard the ERIE as a Musician and Radioman and was an indispensable resource in the creation of this website.